Thank you!
$3 million matching
challenge – complete!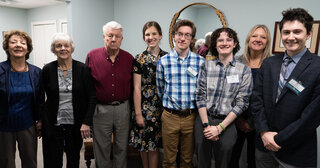 You've mobilized investigative journalism and transparency for the cause of liberty.
Thank you for supporting the Frank Beckmann Center for Journalism, an initiative launched by the Mackinac Center in 2022 to amplify the free-market message. Your unyielding generosity has helped launch the Beckmann Center by completing a $3 million matching challenge in less than 19 months.
You put government transparency on the move –
Government information belongs to the people. The Beckmann Center team is unearthing truth from beneath layers of bureaucracy, whether it's digging into the powers of the administrative state or enforcing public records laws with legal action.

With your help, we have filed thousands of public records requests since early 2022. These requests are the primary tool for citizens to learn about government activity. They help us break stories before anyone else, which in turn drives media coverage and creates a platform for the free-market perspective.

Six college students have completed investigative journalism internships, learning to be skeptical of government solutions and how to hit the pavement to nail down the facts.

We are actively litigating three government transparency cases, including one challenging a school district's refusal to fully release curriculum materials to a parent and another to force a public university to disclose public information about a land agreement.

State Policy Network awarded the Mackinac Center the inaugural award for Best State Based Litigation to recognize a strategic legal filing that uncovered fraudulent pandemic-era loans by Michigan's largest teachers' union – to the tune of $12.5 million.
– and lifted a megaphone for free markets.
You've trusted us to be your voice. The Beckmann Center is amplifying the reach of sound public policy by empowering citizens to hold government accountable.

Reporting from Michigan Capitol Confidential has skyrocketed by 36% since the Beckmann Center's launch. Our investigative journalists have uncovered a series of pet projects funded by state tax dollars, including a curling center, hip hop studio, electric boat station, and more. They also broke stories to shine a spotlight on government activity and helped people like Laura Murray, who opposed her mayor's plan to ban short-term rental properties. When she said so at a city council meeting, she was physically removed for exercising her First Amendment rights. CapCon's reporting drew attention to the issue, and ultimately, Laura was vindicated.

We've been able to reach more people on social media with the Beckmann Center. That includes a 10% increase in Facebook post shares, 16% increase in X (formerly Twitter) followers and 35% uptick in page visitors on LinkedIn. An active social media presence is essential for engaging people that wouldn't seek out a free-market perspective.

All in one week, the Mackinac Center was featured in MLive, Detroit Free Press and the NPR Detroit affiliate covering a Mackinac Center policy event and citing our analysis of film incentives. These are competitive outlets typically less interested in promoting a free-market perspective – a breakthrough made possible with your support.

You helped us reach a Spanish-speaking audience with the Mackinac Center's first-ever Spanish language op-ed on cigarette smuggling along the Mexico border.

We've offered the hard-hitting news and analysis that was a hallmark of Frank Beckmann's work through "Mackinac on Michigan," our monthly radio broadcast on WJR 760.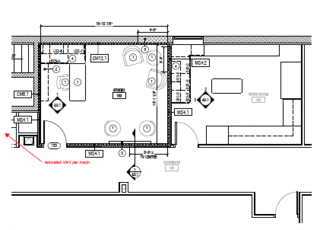 With the $3 million matching challenge laid to rest, we're not slowing down. Together, we're setting our sights on executing an audacious 2023 vision for the Beckmann Center. That starts with completing a new media studio at the Mackinac Center headquarters.
This studio will allow us to give high-quality radio and television interviews and also produce short-form videos that break down elements of our in-depth studies and written news.
Thank you for helping us complete a $3 million matching challenge to launch the Frank Beckmann Center for Journalism at the Mackinac Center for Public Policy. Supporters like you are forcing public officials to reckon with their responsibility to the people, hitting the brakes on abuse of power and reaching new audiences with the liberty message.
Keep the megaphone lifted by donating to the Beckmann Center today!